One of the lessons I learned from automating the lighting of my last RV is that I need to have a plan for what to do when it comes time to sell it. I didn't have a plan, because I thought we were going to live in it until I died. Then it would be someone else's problem. But now I know that I might have to replace the RV every ten years or so, so I'm going to be a bit smarter about it this time.
For the lighting for this RV, I am going to install my gadgets in a manner that doesn't interfere with the operation of the existing switches. That way I can choose to simply disable the IoT automation, and everything will continue to work as it did the day I bought the RV. Also, I want to make it easy to remove the automation controllers without having the splice or repair any wiring going to the switches or lights.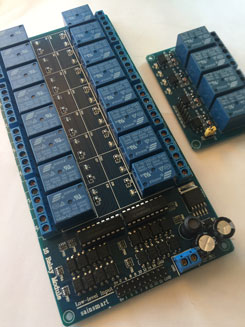 To allow the switches to continue to work without automation, I'm going use relays connected in parallel with the switches. When using automation, the switches will be left off and the automated relays will open and close the circuit. When the relays are off or have been removed, the switches will continue to work as before. Since most of the lights are located in one of two control panels, that means I can probably handle most the lights with a pair of Photon controllers, each with a Sainsmart 16 relay board.
To allow connection without modifying the wiring, I'm going to use piggyback blade connectors.
And of course, the Photon will be running the Patriot library to allow both iOS and Alexa voice control. Time to warm up the soldering iron.